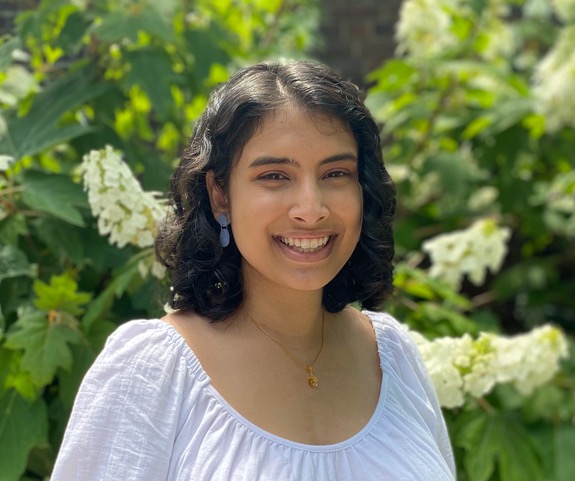 The Office of Competitive Post-Graduate Fellowships is proud to announce that Radhika Purandare '21 is a 2021-2022 Fulbright U.S. Student. She is currently in Sweden studying maternal and child outcomes at the Karolinska Institutet in Stockholm. Our office caught up with Radhika to ask her a couple of questions about her experience with applying to the Fulbright and what she plans to achieve during her time in Sweden. 
Radhika, what inspired you to apply for the Fulbright? 

"I'm really passionate about health equity, and I wanted the opportunity to learn more about how people in other countries work to address inequities in maternal and child outcomes. I was also lucky to have amazing professors and staff at TCNJ who encouraged me to pursue a Fulbright and supported me throughout the application process."

What will you be studying in Sweden? 

"I'm studying maternal health among migrant populations."

Who will you work with?

"I'm working at the Karolinska Institutet in Stockholm with Dr. Helena Lindgren and Dr. Erica Schytt, who run a program called Enhanced Maternity care for Migrant women – research to Action (EMMA), which aims to alleviate disparities in maternal outcomes among migrant women." 

What do you hope to achieve from this opportunity?

 

"On an academic level, I'm looking forward to learning more about different research methodologies, but I'm also excited to have the opportunity to immerse myself in a different culture and get a global perspective on public health."

Is there anything else you'd like to share/ any advice for other applicants? 

"I know that the application process can feel a little intimidating, but having just finished my first few days of work, I can definitely attest that it's worth it! If anyone has any questions about my experience so far, they can feel free to reach out to me via email." 
If you have any questions for Radhika, please contact fellowships@tcnj.edu.
To learn about Radhika's experiences, read more here.